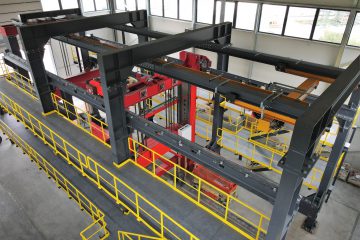 Testing of containers
According to the CSC and UIC regulations, the newly developed and made prototypes must be tested in compliance with the standard ISO 1496. Our own testing room of containers enables us to do all the tests by ourselves.
In order to be able to offer the market and the customers tested and functional products, our testing room enables us the following testing:
testing of materials (toughness test),
static and dynamic testing of constructions of container,
dimension controls and measuring of products,
testing of gas tightness,
testing of container demolition,
simulation of the container falls ("drop test"),
functional testing of containers,
and other testing adapted to the customers' requirements.
This kind of development, production and testing enables us to launch an optimal and tested product on the market and the final buyer will use it carefree every day.